In December 2019, there were 240 TPPs registered to provide services across the EEA. Over the past 12 months, the figure has grown to reach 450 TPPs.
Although growth over the past quarter is slightly lower than previously seen, there were still 40 new TPPs authorised, an increase of just under 10%. This figure of course does not include any credit institutions, operating in the capacity of TPPs, who are already offering their customers account aggregation or payment initiation services. Early indications show that many of these organisations are indeed seeing the competitive advantage of providing their customers with one central platform through which they can access and control all their different accounts and funds.
Of course, Brexit will undoubtedly play a part in our Q1 2021 tracker. We are likely to see UK TPPs setting up European operating entities in order to provide their services outside of the UK. Conversely, to provide services within the UK, European TPPs were able to register under the UK FCA's Temporary Permissions Regime (TPR) prior to 31st December 2020. From 1st January 2021, any new European TPPs wishing to provide services in the UK have to set up a new UK operating entity and apply for registration with the FCA. Next quarter we will be reporting on both the UK and European landscape.
Q4 Highlights
450 TPPs approved to provide services across the EEA and UK.
The UK has 200 Home regulated TPPs.
Each country in the EEA has at least 75 TPPs who can provide services due to passporting.
Sweden now joins Germany in having more than 30 Home registered TPPs.
Lithuania has seen a 50% growth in Home regulated TPPs since the end of Q3, having grown from 14 to 21.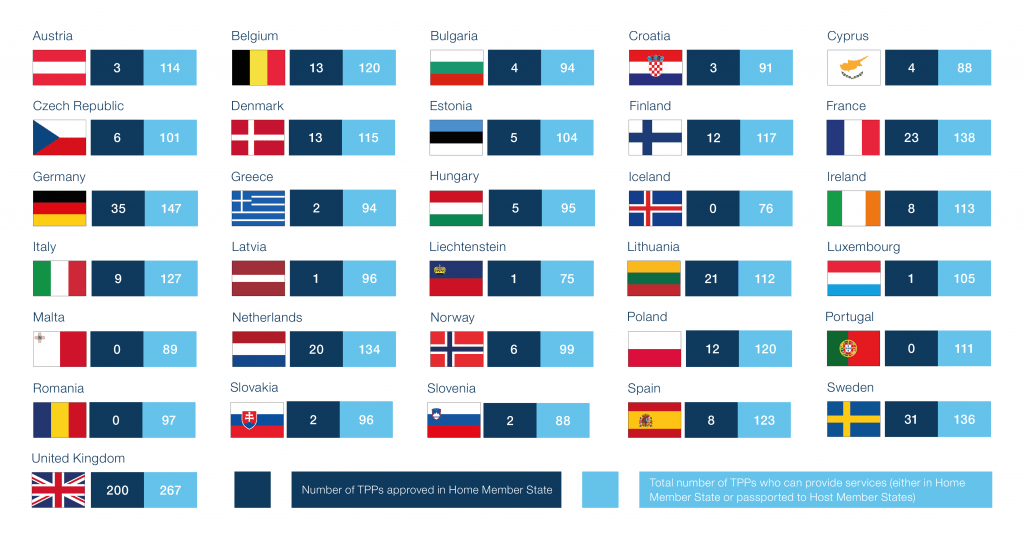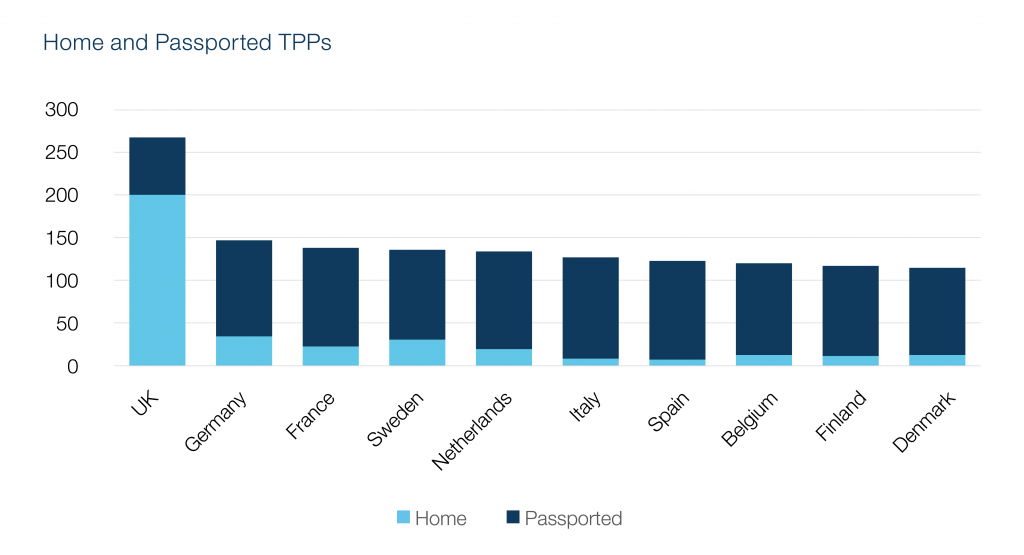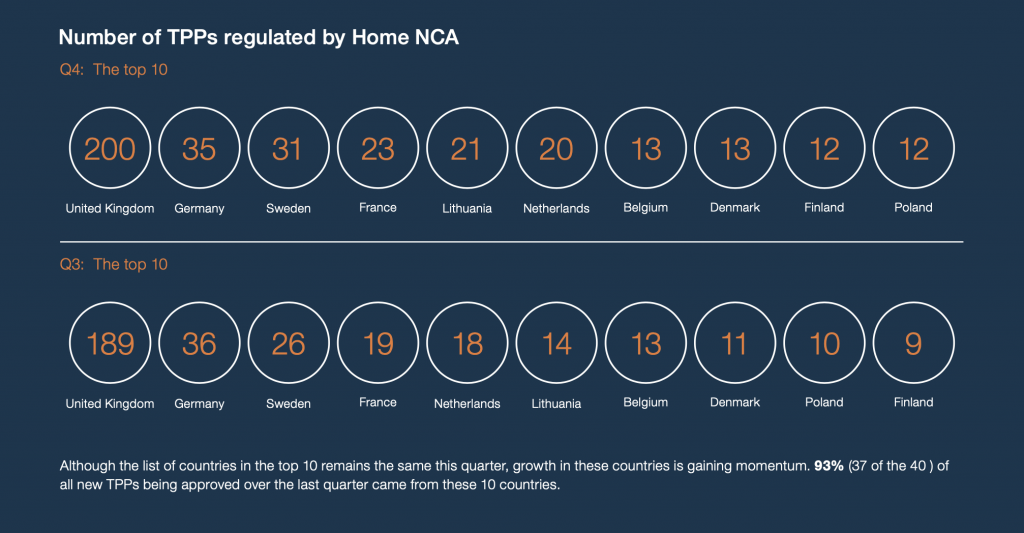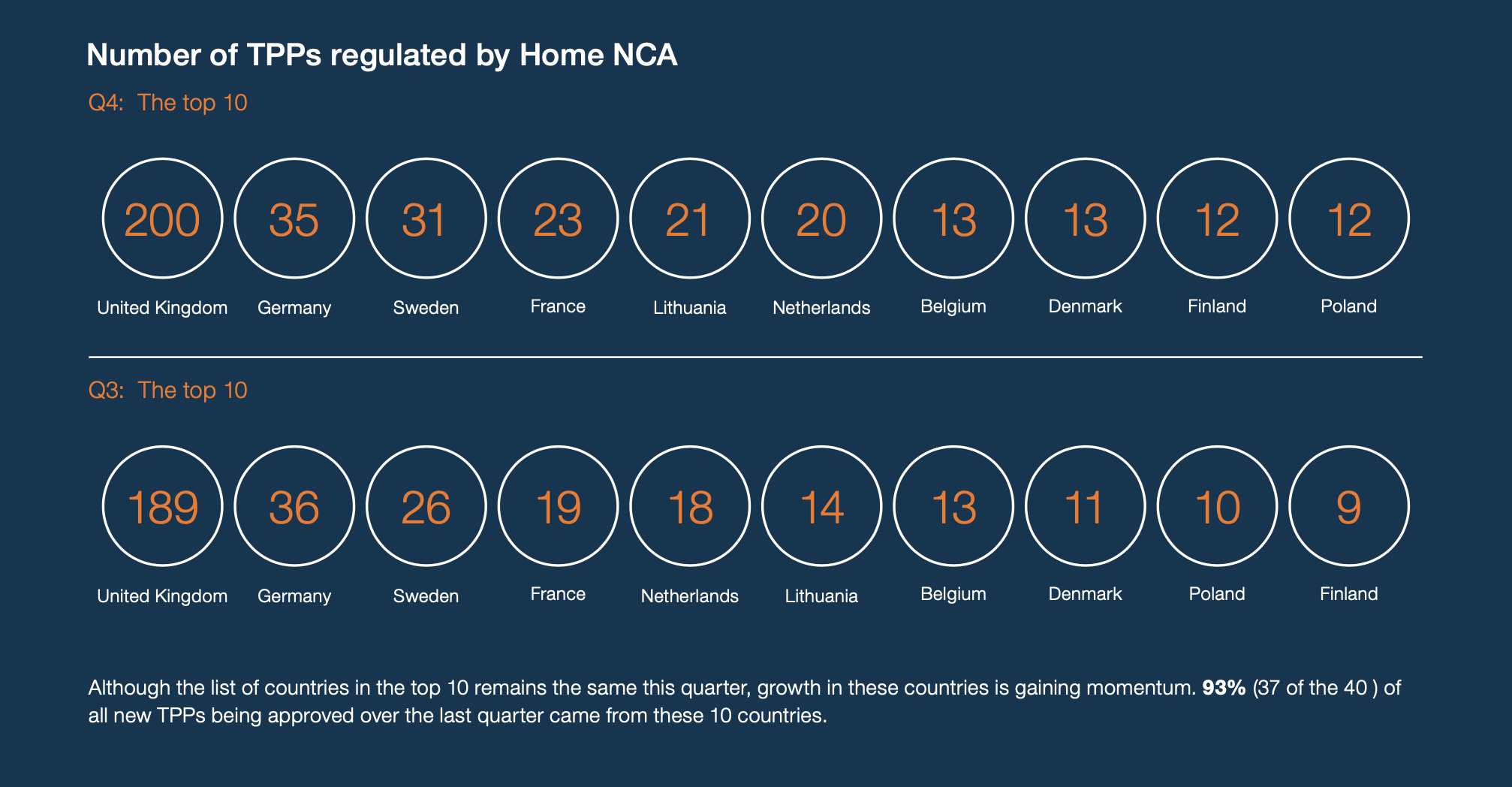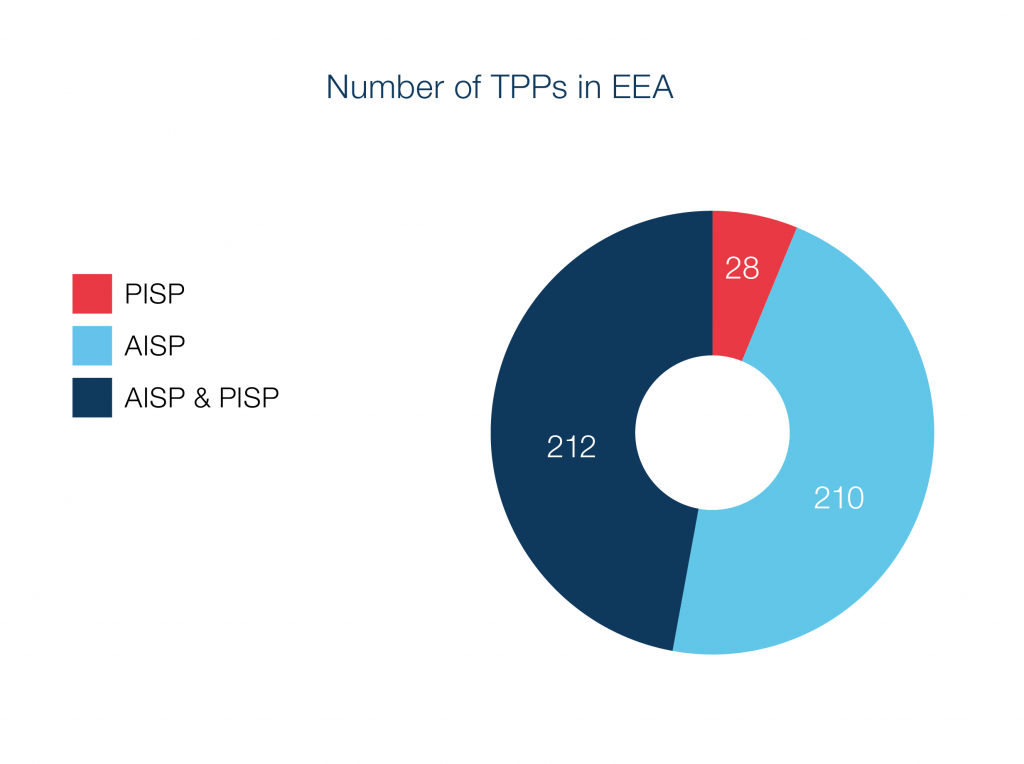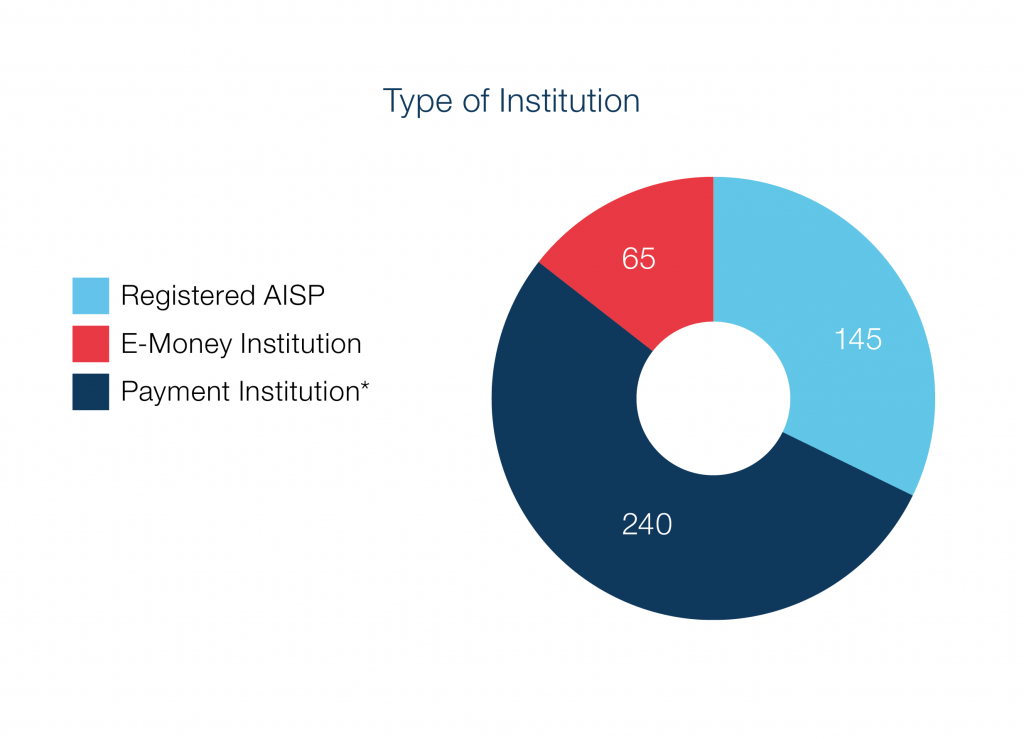 The trend continues this quarter with nearly half of all TPPs registering to offer account information services as well as Payment Initiation Services. The trend over the past year however shows that there is an increase in TPPs offering PISP services, whether that be standalone or in conjunction with AISP services.
Over 50% of the newly regulated FinTechs are registered as Payment Institutions, meaning they are authorised to provide and execute payment services.
*'Payment Institution' means a legal entity that has been granted authorisation to provide and execute payment services which are not connected to taking deposits or issuing electronic money.
Note: these figures do not include Credit Institutions acting as TPPs.
If the growth curve continues to follow historical trends, there will be in excess of 500 TPPs by the end of Q1 2021. However, with Brexit impacting next quarter's tracker, the total number will be split between the UK and Europe.
France, Germany, The Netherlands, Lithuania, Sweden and the UK will all have in excess of 20 Home Regulated TPPs approved to provide services.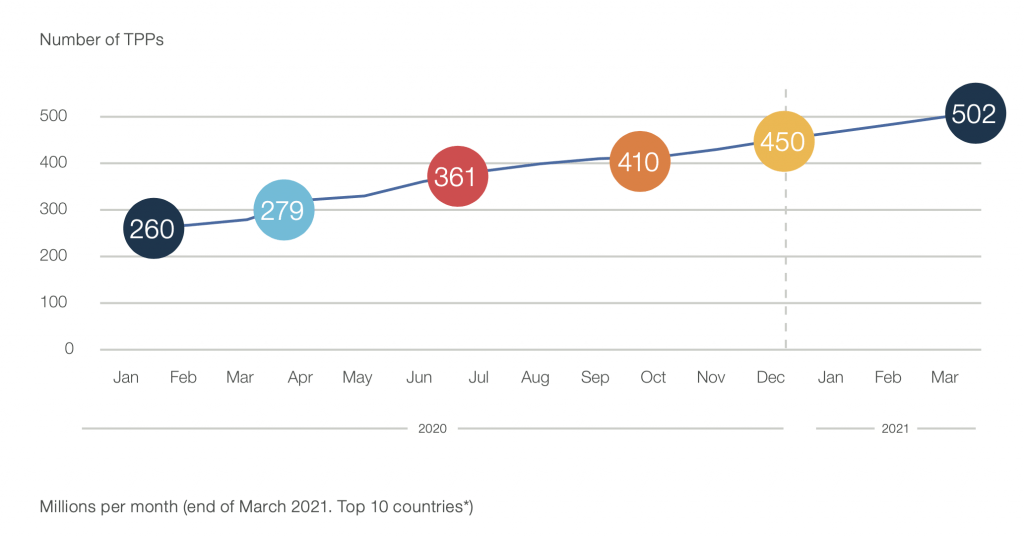 API calls across the EEA
Based on our model, we calculate that there were 3.07bn open banking API calls in the EEA in December 2020.
If Brexit had not happened and passporting continued for UK TPPs, we would predict a total of 4.18bn monthly calls by the end of Q1 2021.
However, the landscape is set to look rather different in a few months' time. What will be interesting to see is the increase in UK TPPs setting up European entities and EEA TPPs registered under the UK's Temporary Permissions Regime and those who have subsequently registered a separate legal entity with the UK FCA.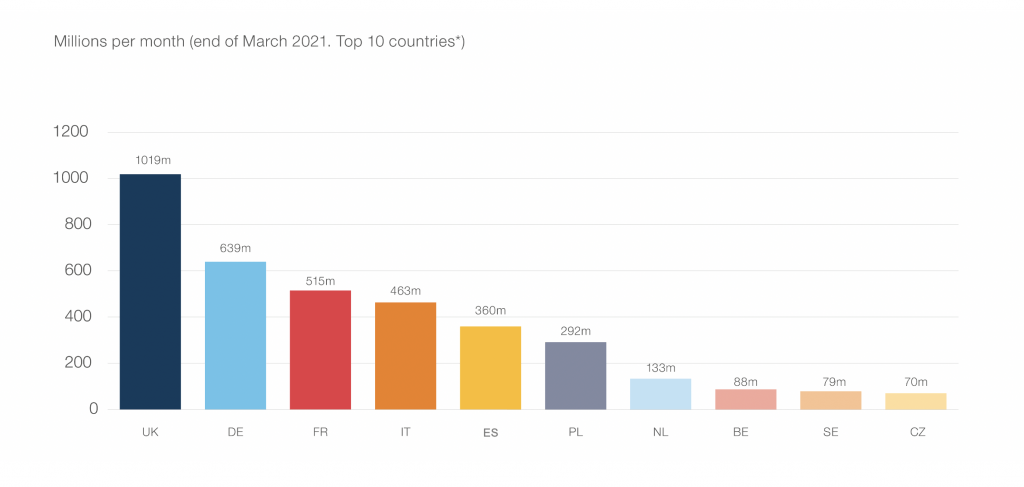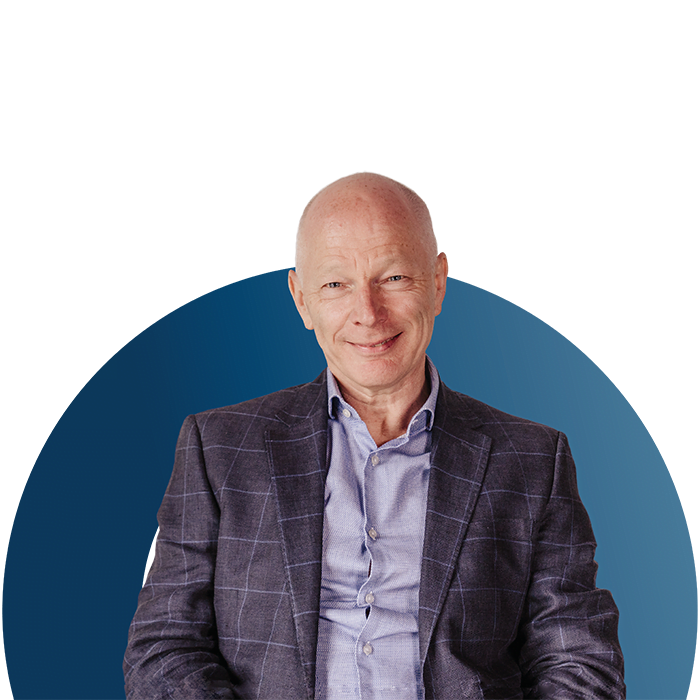 "Although what we're seeing through our TPP tracker is just a snapshot through one lens – as we're not reporting on all the credit institutions offering TPP services – we believe open banking is really starting to take off. Market participation has accelerated with over 50% of all EEA countries having at least 5 approved Home regulated TPPs. We're also seeing an increase in cross border traffic through the Konsentus Verify platform. In 2021, it will be vital for Financial Institutions to continue safeguarding customer data and funds by ensuring they have appropriate checking procedures in place."
Mike Woods, CEO Konsentus