Over the last three months, there has been a slowdown in newly regulated fintech TPPs. In the EEA, there was a net increase of 8, taking the total to 346. In the UK, the number dropped due to 9 TPPs losing their regulatory permissions and now stands at 212. The overall total remains the same as reported in June (559), due to one TPP being regulated by the Gibraltar Financial Services Commission (GFSC).
With the market maturing, the increase in passporting approvals has also slowed. During Q2, each EEA country gained on average an additional 9 passported TPPs, this quarter that number reduced to 3. Despite a smaller rise than in previous quarters, there are now 21 countries with over 100 passported TPPs.
These numbers do not mean that activity itself is slowing. At Konsentus, through our Verify platform, we are seeing a steady rise in transaction volumes, likely due to a combination of increased adoption, but also an expanding ecosystem. The ability of TPPs to license their PSD2 permissions to fourth and fifth parties creates a much wider data supply chain and demonstrates the need for robust and reliable processes to minimise risks.
Q3 Highlights
Sweden has the highest number of Home TPPs for the third quarter running, despite one TPP losing its PSD2 permissions.
Spain continues to have the highest number of passported-in TPPs (123) and now also ranks in the top 10 by Home TPPs due to an additional 2 TPPs gaining regulatory approval over the last three months.
8 countries gained a total of 11 newly regulated TPPs: Cyprus (+1), Spain (+2), Finland (+1), Croatia (+2), Italy (+2), Sweden (+1,) Lithuania (+1), Slovakia (+1).
TPPs from 2 countries had their open banking permissions removed: Sweden (-1) and Lithuania (-1).
Despite having no Home regulated TPPs (alongside Liechenstein), Portugal once again is one of the highest ranking countries by passported-in TPPs, enabling consumers in the market to enjoy open banking services provided by fintechs regulated in other markets.
Croatia records the highest percentage increase in Home TPPs this quarter, with 2 newly regulated fintech TPPs taking its total to 5.
The Rise in Passported TPPs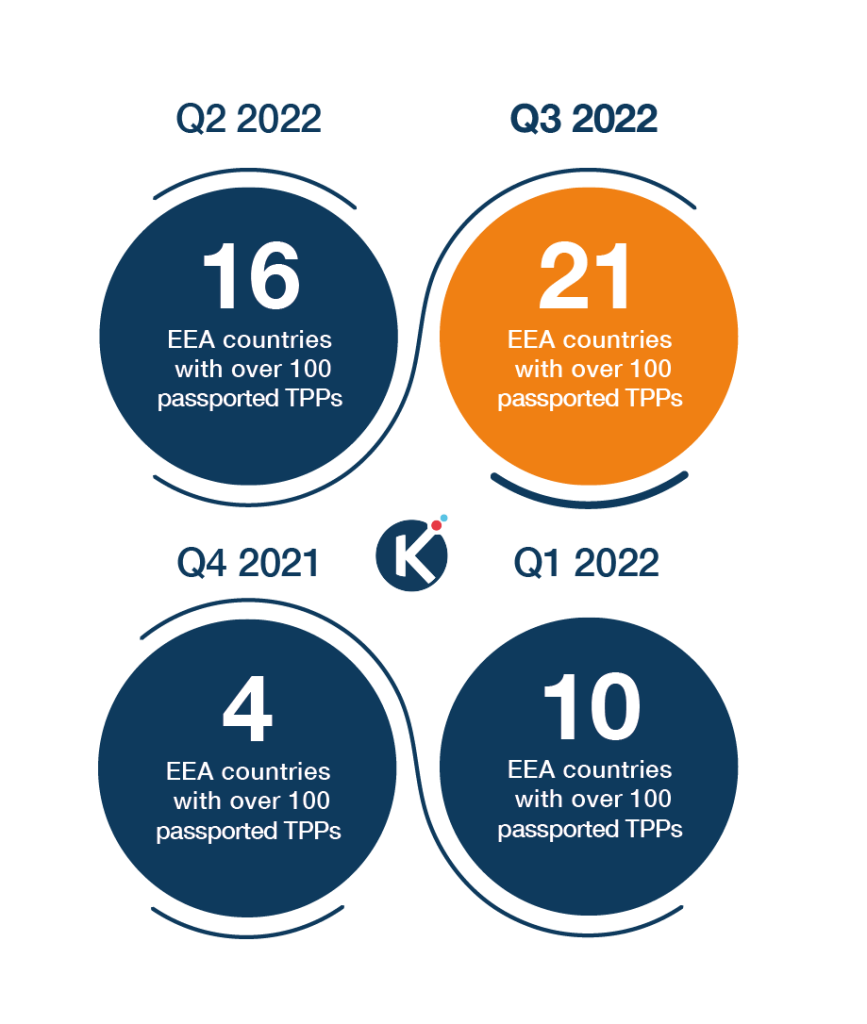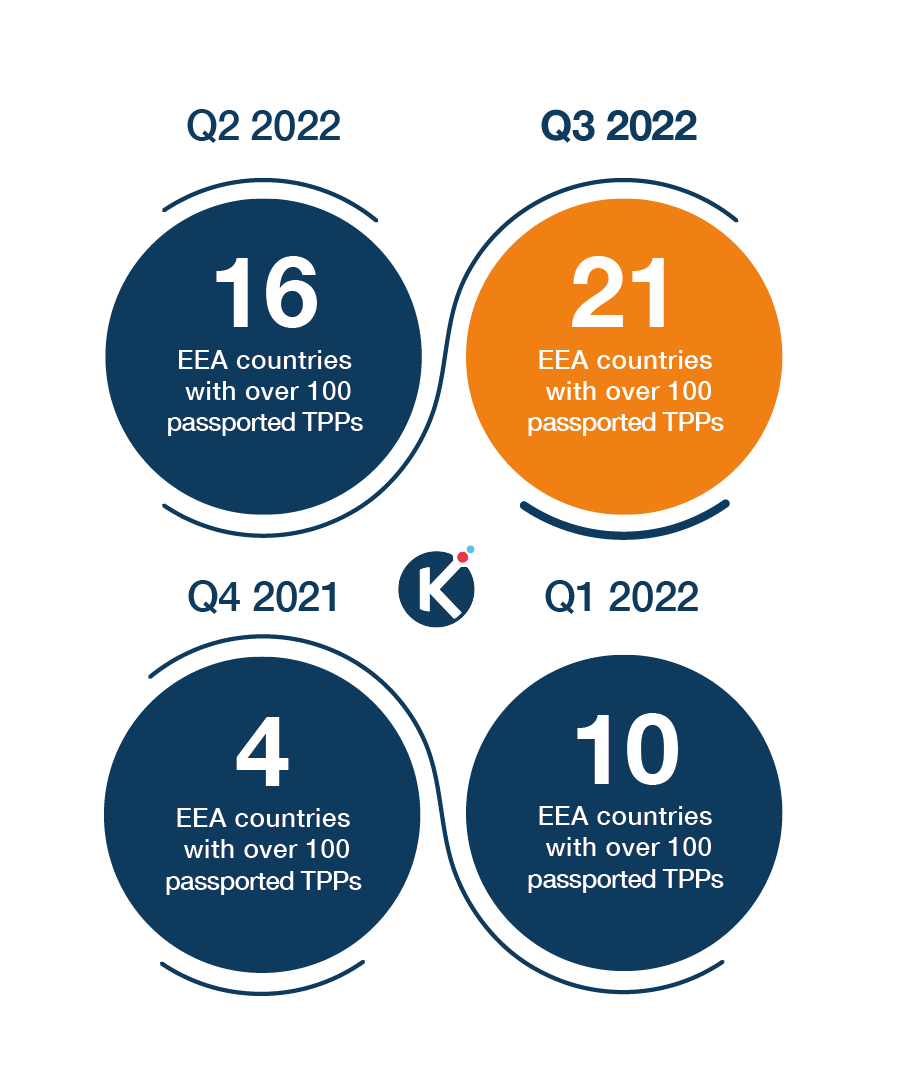 TPP Tracker Country Breakdown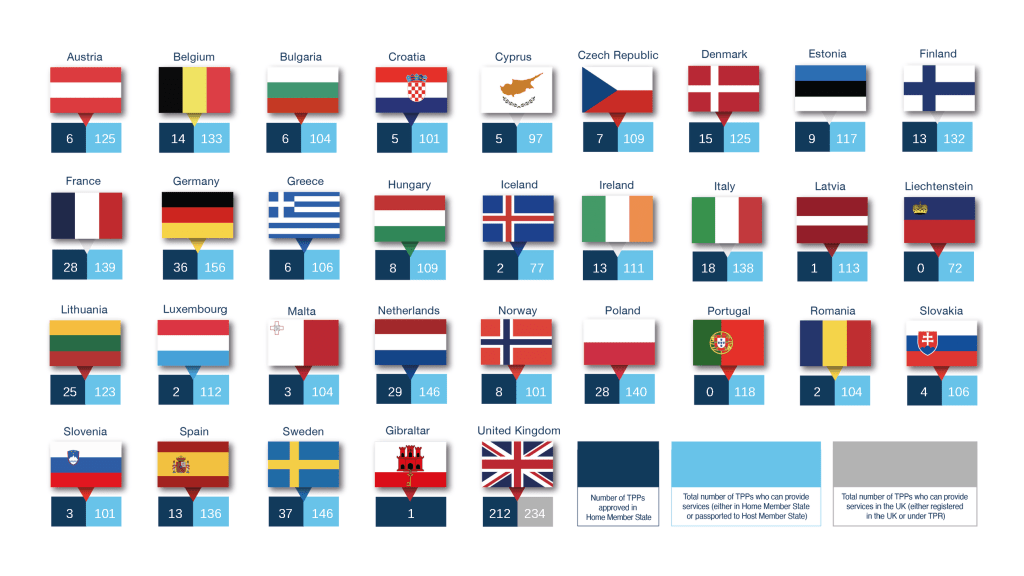 Total number of TPPs
Top 10 Countries With the Most TPPs EEA: Home & Passported TPPs; UK: Home & TPR TPPs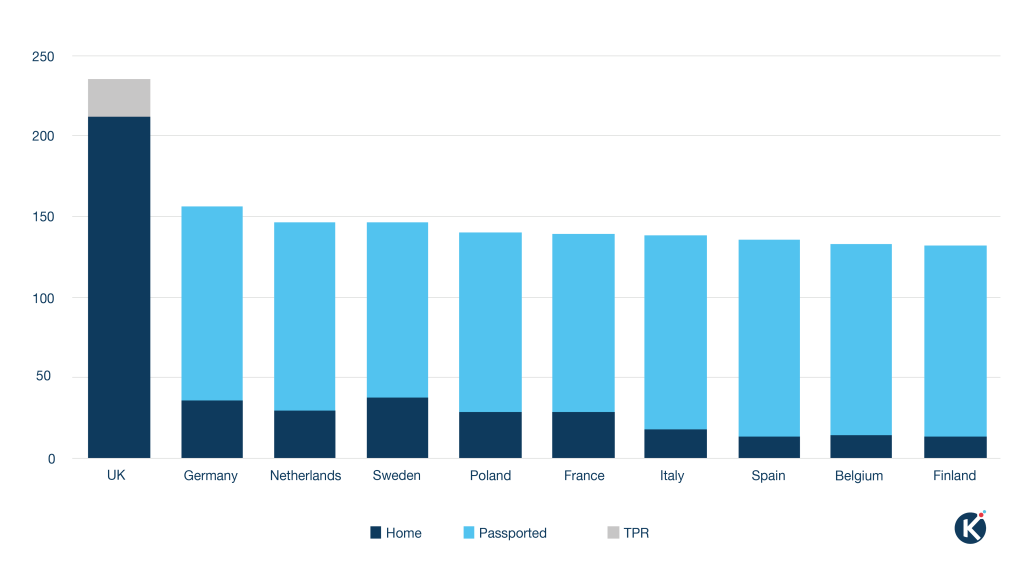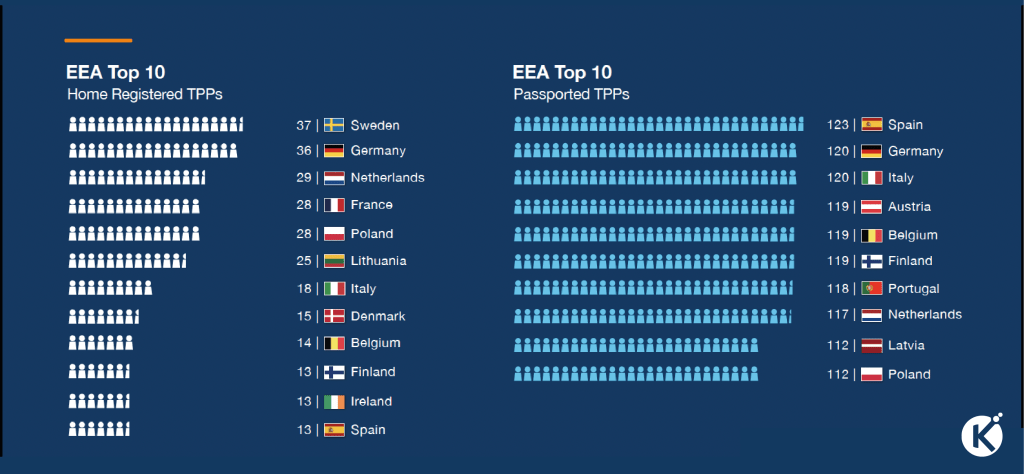 Last quarter, 77% of EEA countries has over 100 TPPs authorised to provide open banking services. At the end of Q3, that figure had risen to 90%, with only Cyprus, Iceland and Liechtenstein having a lower number.
The number of TPPs providing Payment Initiation Services (PIS) remains steady at 63%. This is despite a lower proportion of the newly regulated TPPs being authorised for these services than last quarter.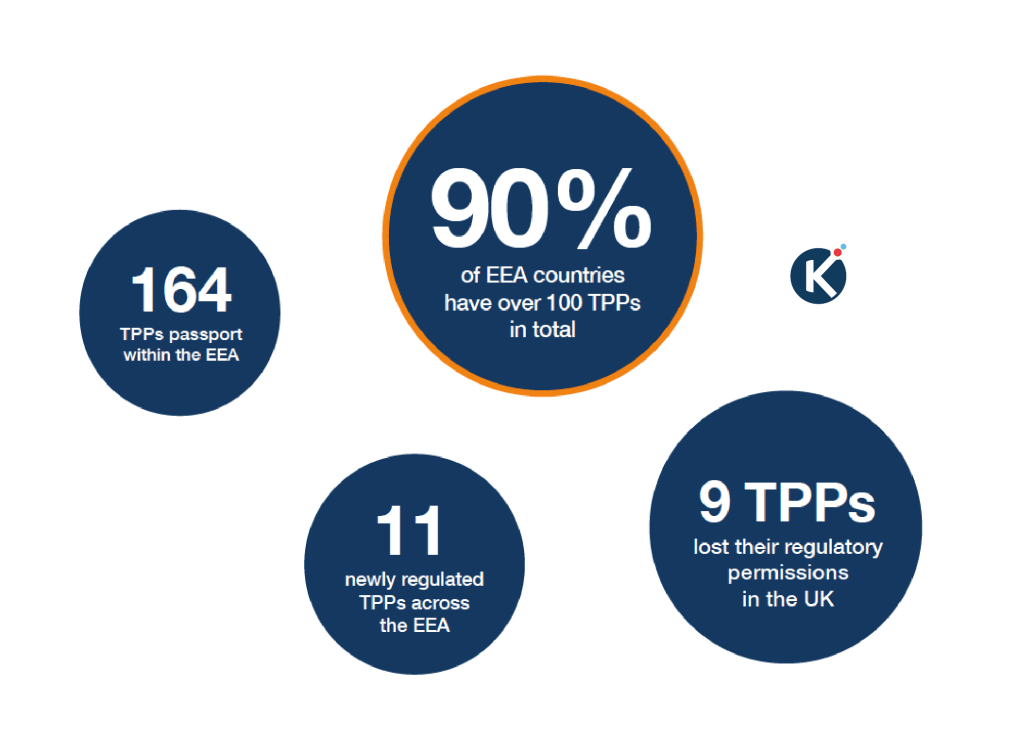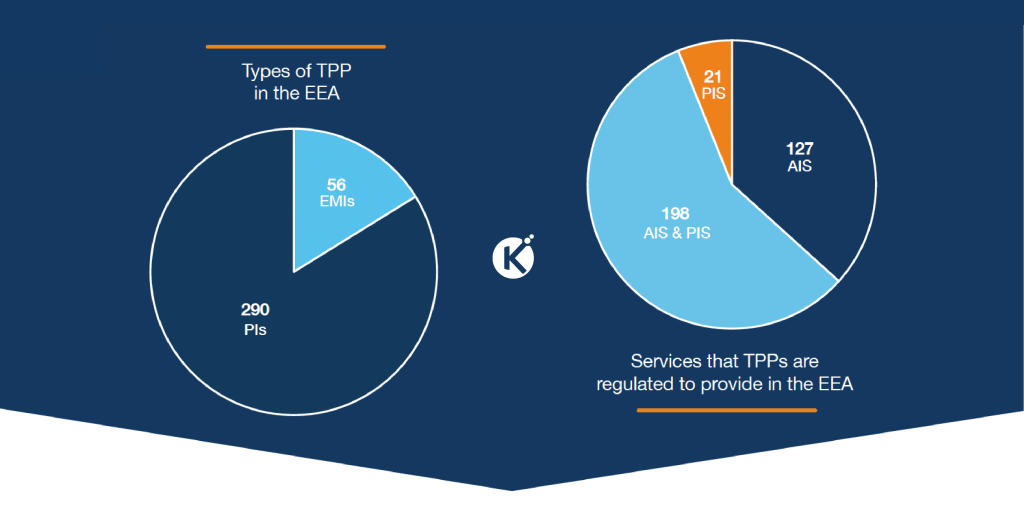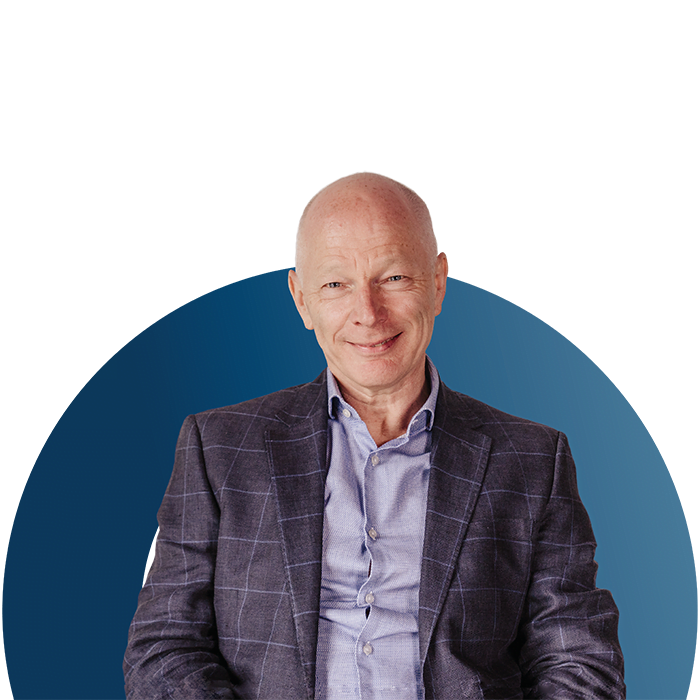 "What's noticeable this quarter is the marked difference between what we're seeing in the EEA compared with the UK. This quarter, all newly approved TPPs are regulated in mainland Europe, but of those that lost their permissions, three-quarters of them are regulated by the UK's Financial Conduct Authority (FCA).
As we've said for a long time, the EEA has been playing catch-up and we're now really seeing that play out. The EEA now accounts for 62% of all fintech TPPs in Europe, a rise of 4% from a year ago. And, the average total number of TPPs in any given EEA market now stands at 117, a 30% increase from this time last year.
The successful fintechs are embedding themselves into the ecosystem and those that are unable to compete on their own are either being acquired by larger organisations or going out of business. What's going to be interesting is to see how these larger organisations partner with other parties, outside of the regulatory framework to expand their service offerings."
Mike Woods, CEO Konsentus
Mike Woods, CEO Konsentus