The trend we've seen over the past few quarters has continued. It is the first time in almost four years, the EEA has seen a decline in the overall number of TPPs. The UK has also seen a decline, similar to Q4 2022. Market maturity combined with economic uncertainty has led to some smaller TPPs going out of business or changing strategic focus​
​In the EEA, despite ten TPPs gaining regulatory approval (two more than in Q1 2023), eleven TPPs had their permissions removed (again this is more than Q1 2023), resulting in an overall figure of 355, one less than we reported at the end of March. ​
In the UK, 4 additional TPPs were approved to provide PSD2 open banking services, one less than the 5 whose permissions were removed.  This gives an overall number of 556, three less than we reported at the end of Q1 2023.​
Countries in northern and central Europe are where there has been the most change this quarter. 64% of the TPPs whose permissions were removed were from a Nordic market and, of the newly approved entities, half of them are regulated in either Luxembourg or Finland.  ​
TPP Tracker Country Breakdown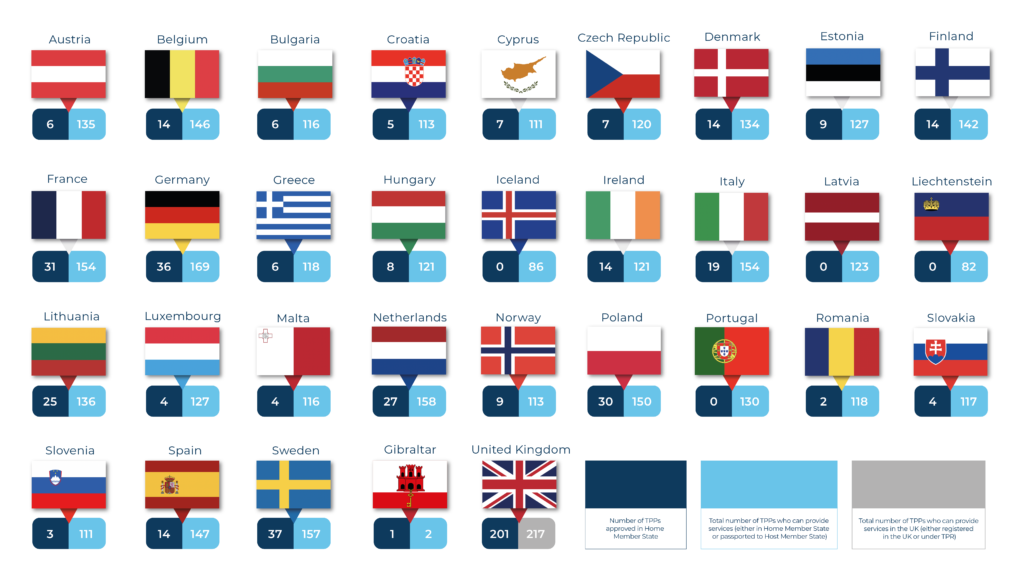 Q2 Highlights (EEA)
Sweden still has the highest number of Home TPPs (37), despite 2 TPPs losing their open banking permissions
Italy has the highest number of passported-in TPPs (135) followed closely by Germany (133) and Spain (133)
TPPs from Cyprus (1), Finland (3), France (1), Hungary (1), Luxembourg (2), Malta (1) and Spain (1) gained regulatory approval during Q2 2023
TPPs from 7 countries had their PSD2 permissions revoked Denmark (2), Finland (2), Hungary (1), Iceland (1), Latvia (1), Netherlands (2) and Sweden (2)
In Luxembourg, the addition of 2 newly regulated TPPs saw its total double from 2 to 4
The increase in passported-in TPPs was marginally higher in Q3 than in Q2. 5 more TPPs gained permission to operate in the Netherlands and in 8 other countries, the number rose by 4. (Belgium, Bulgaria, Greece, Italy, Latvia, Lithuania, Luxembourg and Sweden);
Year on Year Rise in Passported-In TPPs (Average per EEA Country)
(a 14% increase from June 2022)​
(a 44% increase from June 2021)​
(an 8% increase from June 2020)
(average no. passported-in TPPs)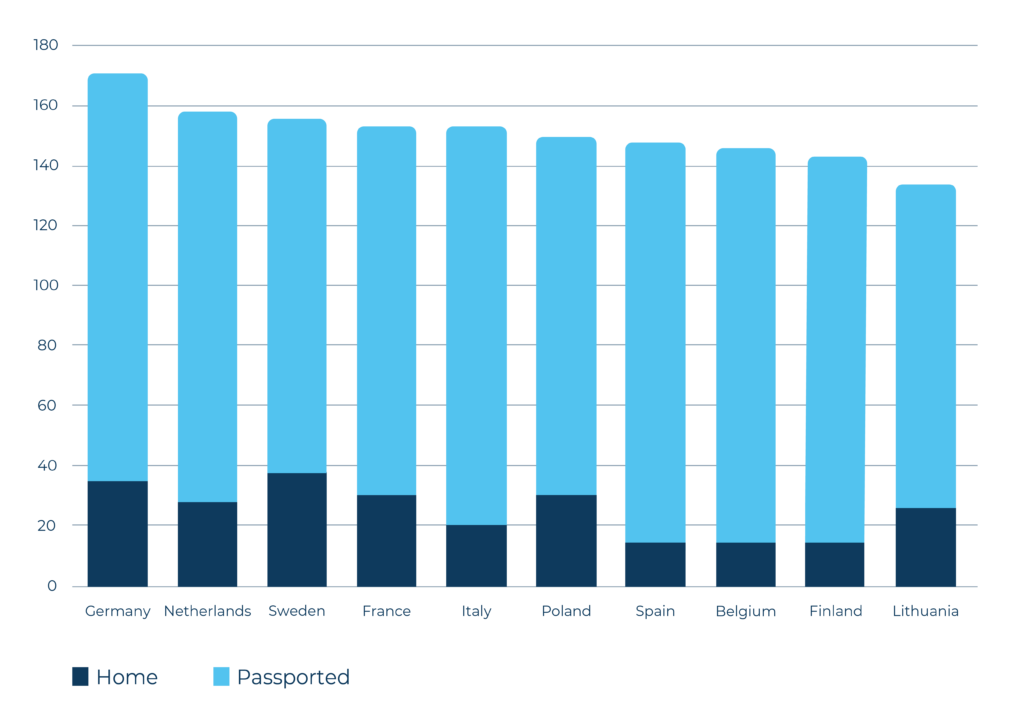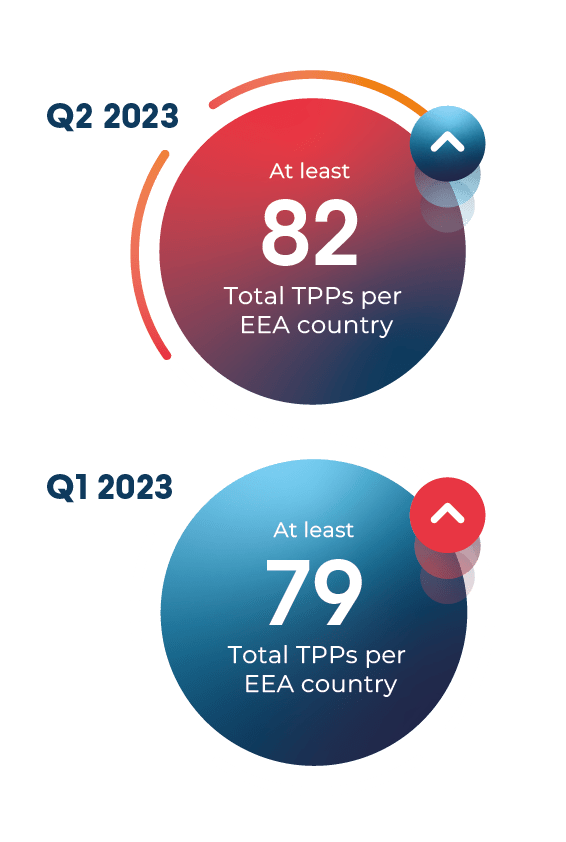 TPPs passport within
the EEA
(of the 355 total number)
(per EEA country on average)
increase in
passported-in TPPs
With PSD2 open banking now in its fifth year, trends are starting to emerge. ​​
In the last 12 months, the growth in TPPs gaining permission to provide regulatory services into additional markets is greater (at 14%) than those gaining regulatory approval for the first time (5%).​
This is commensurate with a maturing ecosystem where successful businesses prefer to gain permission to operate in new markets to grow their businesses rather than expanding their product offering in their core market. This of course makes it harder for new market entrants who are competing against already successful business models. ​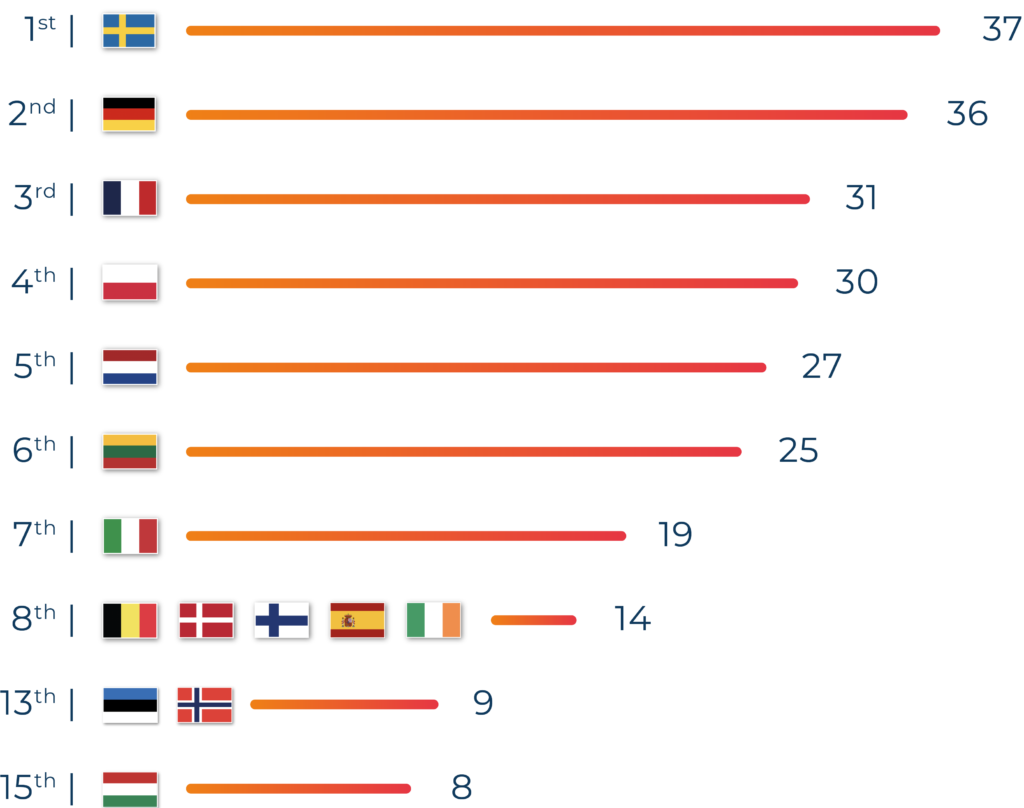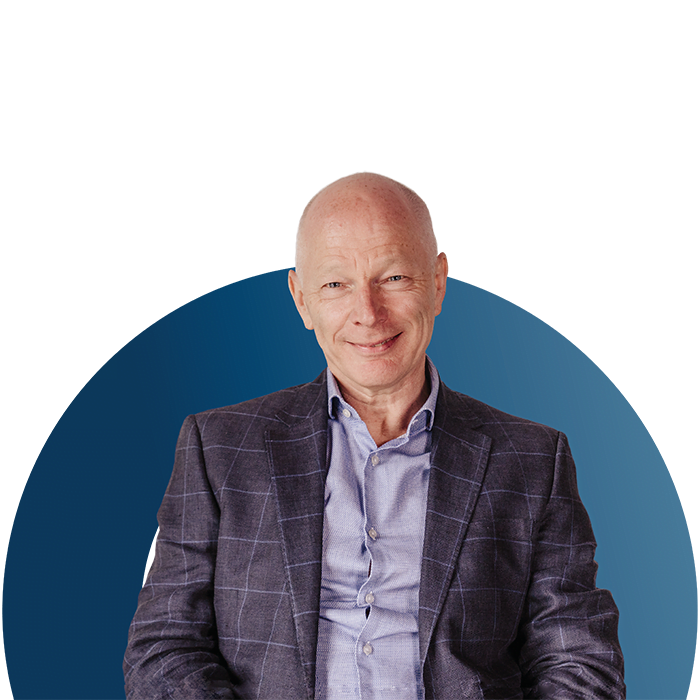 If you'd like a PDF copy of the Konsentus TPP Open Banking Tracker, please fill in the form below: