Konsentus has launched an analysis tracker to monitor the progress of Open Banking across the European Economic Area.
November analysis shows that since the implementation of the PSD2 Regulatory Technical Specification for Strong Customer Authentication and Common Secure Communications, growth of Third-Party Providers across the EEA has steadily increased.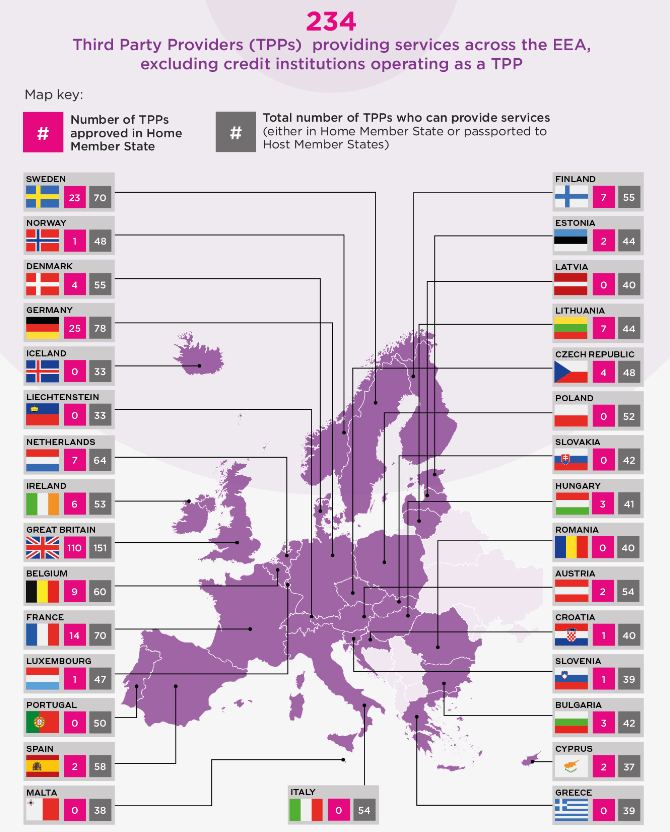 What is evident from the data however, is that passporting adds a new dimension. Every country across the EEA now has TPP coverage for the first time. Is the market ready and have Financial Institutions ensured they have the required solutions in place to meet demand?
"We've seen a real shift over the past few months. It now doesn't matter which country you're in, all Financial Institutions across the EEA need to be ready to let legitimate TPPs access payment user account data – those that aren't are putting their customers at risk".
– Mike Woods, CEO, Konsentus
View full analysis
Konsentus will be publishing updated TPP figures monthly. To keep informed, follow @Konsentus.
Konsentus, a RegTech company, provides Identity & Regulatory checking services for Financial Institutions (ASPSPs) so that they can comply with PSD2 Open Banking access to accounts. Issued through a SaaS based platform, the solution enables ASPSPs to provide open banking services to their customers, confident in the knowledge that they are only providing data to Third Party Providers (TPPs) who are regulated and have customers' "explicit" consent to use their data.
Headquartered in the UK, Konsentus has created a world class solution for Financial Institutions across the European Economic Area (EEA). Delivered through best in class standards it provides clients with a cost-effective solution to help deliver their regulatory requirements.